First Books
At some point, when the children were about halfway through their reading sheets, they were introduced to books. After so many years, I am not sure how many of the ones we used remain in print: probably not one of Allon's favorites, "You May Go to the Moon" by Ira Freeman, which stated "no one has been there yet." In any case, only a small part of the available literature could be sampled.
The books found most useful for the beginning were:
Hop on Pop (Dr. Seuss)
Go Dog, Go (Eastman)
The Big Red Bus (Kessler)
Ten Apples up on Top (Theo Le Sieg, aka Dr. Seuss)
All children started with "Hop on Pop" which consists of short independent segments and is intended for beginning readers. By the time they reached the middle, they started on "Go, Dog, Go" which was harder but not as disconnected. We purchased these books, because the children spent considerable time with them.
Another book well liked at this level (and long afterwards) was "The Best Word Book Ever" by Richard Scarry, which saw so much use that its binding had to be reglued twice. Many other elementary texts exist at this level, e.g. "Inside, Outside, Upside Down" (Bernstain), and they were quite useful, though rather short. Because the children quickly finished them, these books were borrowed from the public library rather than purchased.
At the next level some books were bought but many came from the public library. Examples:
The Bicycle Lesson (Bernstain)
The Big Honey Hunt (Bernstain)
Do Baby Bears sit in Chairs? (Kessler)
Little Bear's Visit (and other "Little Bear" books, by Minarik)
Chester (and other easy books by Syd Hoff)
Snow (Eastman)

These were followed by a variety of easy books--by Richard Scarry, "Beginner Books" from Random House and "I can Read" books from Harper.
As for the well-known books by Dr. Seuss: they seem quite tempting, but tend to be too sophisticated for very young readers (some exceptions are "Hop on Pop" and "Green Eggs and Ham"). They are deservedly popular among older children who seek more spice in their elementary reading than school texts provide, and at an older age our children enjoyed them, too, especially their verbal creativity, their rhymes and puns. To four-year olds, however, they are a bit puzzling and difficult.
By the way, when Ilana was three years old a neighbor, a school principal, presented her with an old school primer. She did quite well with it but did not find it as exciting as her other reading.
In all that time we never read any book aloud to our children. Later we wondered whether, had we done so, they might have balked at reading new texts and might instead have pressed an adult to do the reading for them. One of the rules of the reading game was that the children always took an active part. We made clear to them that we were happy to sit with them and help them read their books, but they would have to do the reading by themselves.
Conclusion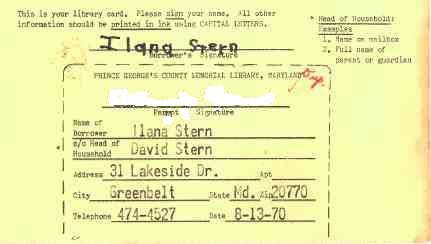 From this point on the children tended to read more and more on their own, and our role as parents consisted mainly of keeping them supplied with reading material on a suitable level. When the children said they wanted to "read to" us, we gave them the attention and sat down to listen; but more and more, they read independently. The public library serving our area greatly helped in this. It allowed children to register as borrowers as soon as they could sign their names on a card, and our children felt quite important when that happened, some time during their sixth year.
How did early reading affect their development?
In nursery school no reading was expected, and although books were available, our children usually found other occupations. They never bragged about their reading skill and most other children seemed unaware of it. One exception was Audrey, Ilana's best friend in nursery school, to whom Ilana used to read from books. Audrey apparently got the notion that everyone could read except herself. One day, when Ilana was home sick, she thrust a book into the hands of another girl and told her: "Read to me!"
In elementary school much depended on the particular teacher to whom Ilana was assigned. Most teachers--after the initial weeks during which they became acquainted with their classes--assigned her to do independent reading: she did not end up marking time in boredom, as some friends had predicted. She still had to spend a considerable effort on her handwriting, singing, art and social activities.
She did best when challenged by her teachers. In second grade she was encouraged to write long compositions and did very well, while in third grade less was demanded and less was achieved. She stayed consistently near the top of her class.
If there is one point which deserves to be repeated to anyone intending to teach the very young to read, it is: take your time. An adult can easily read this summary in less than half an hour, but the program it describes takes at least a year and a half to carry out. The best way to teach reading to young children is unobtrusively, without it becoming a major activity: gaps of several weeks in the study do not seem to hamper ultimate progress. This article contains many ideas you might want to try out, but it is best to ration them and try them out slowly, one at a time; and it is also best to be creative and invent new material, custom-made to the young pupil. With patience and persistence, we hope, you will succeed, and we wish you as much satisfaction as we ourselves derived.
Postscript
Ilana's reading experiment began thirty-four years ago, and now all our children are independent adults. Each has a different temperament and personality, each has different interests and inclinations. Has early reading made any difference in their lives?

They all read, to varying degrees, and more important, none watches much TV. Ilana loves the outdoors--sailing, biking, scuba, hiking, climbing sheer cliffs--but she is also an accomplished writer, with an easy, flowing style. She has contributed to printed publications and also to documents on the internet, where she is quite active. Oren loves puzzles (right now he's into cryptic crosswords), is a formidable bridge player and also pretty good at juggling; he married a children's librarian. Allon, the vegetarian, runs the light and sound system for amateur theatres and for science-fiction conventions, and loves to tinker with computer hardware and software.

None of the three turned out bookish, yet each appreciates the written word. Whenever we all meet in our house, we often play word games ("Boggle" is the favorite), and my wife and I frequently end up with the bottom score. Did early reading have anything to do with this? We like to think that it did, and that by enriching the lives of our children it helped them become who they are.