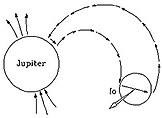 The drawing is not to scale. Actually Io is much smaller. Watchful readers may notice that the north-south magnetic polarity of Jupiter is the reverse of what it is for Earth. They might also note that if the drawing views Jupiter from the Sun's side, Io actually orbits in a direction opposite to that of the arrow. However, the plasma which fills space around it rotates with Jupiter and moves much faster, overtaking Io. Relative to the plasma, therefore, Io moves backwards.
The path of the space probe Voyager 1 was designed to check out this dynamo, by flying close to where its currents were expected to flow. It did so on March 5, 1979, and its magnetometer very clearly detected the signature of a current of about a million amperes. Previous to that it was noted that unlike any other moon of Jupiter, Io had a strong influence on radio emissions from Jupiter's magnetosphere, which depended on its position: it could be that the moon's unique electric currents were involved in this.
Postscripts
The Hubble Space Telescope, using its Wide Field and Planetary Camera 2, has been photographing auroras of the planet Jupiter. Recent pictures,taken in ultra-violet light, have shown not only rings of aurora around Jupiter's magnetic poles, but also a spot of light, formed where the magnetic field lines of Io reached the surface. Presumably, they represent a special kind of aurora, powered by the electric currents of the Io dynamo. A recent picture shows not only the footprint aurora of Io (which also leaves an auroral "trail" behind it), but also spots of light attributed to auroras formed in a similar manner by Europa and Ganymede, more distant moons of Jupiter.

See here for a picture of Io "in its true colors" and links to sites about it.
---
Questions from Users:
Do dynamo currents exist at Jupiter's other moons?