Terezin (Theresienstadt)
Theresienstadt was founded in 1780 by the Austrian Emperor Josef II and was named after his mother, empress Maria-Theresa. It is a compact walled town of massive brick barracks, surrounded by high star-shaped brick battlements, further protected by moats (generally dry, but capable of being flooded). It was meant to hold a garrison of 5000 to 15,000, but in the 19th century the garrison was reduced and a few thousand civilians moved in.


It stands at the edge of the Bohemian plain, south of the Ore Mountains (Erzgebirge) which mark the northern border of Bohemia. The river Elbe (Czech: Labe) passes near it, flowing to the north-west and soon entering a steep canyon, cutting across the mountains of north Bohemia. Ships and barges on the Elbe connected Bohemia to ocean trade, and its valley provided a route for railroads. A tributary, the Eger (Czech: Ohře) flows into the Labe right next to Terezin's walls. The fort was meant to protect Bohemia against invaders from the north, but actually was never attacked: Napoleon's army went by a different route, and so did the Prussian army in the war of 1866.
Besides the "big fort" of Theresienstadt, a "small fort" (mala pevnost) of lesser area was built across the river Ohře, and it remained a purely military installation. In the Austrian Empire the small fort was also a prison for political prisoners--most notably Gabrilo Princip, whose 1914 assassination of the Austrian crown prince and his wife started World War I; he died there of tuberculosis in 1918. After June 1940, the Gestapo (German "secret national police") took charge of it and jailed, tortured and even hanged there enemies of its regime.
At first some Jews thought that being concentrated in one big "ghetto" offered some safety, and that Terezin could provide a "city of refuge" where they could wait out the war. Jacob Edelstein, appointed by the Germans to head the Jewish organizations in Terezin, hoped that in Terezin Jews could prove their value to Germany by undertaking productive work and would therefore be protected from further depredations.
In reality, the Nazis were already planning the killing of Jews in Poland and Russia. Terezin soon became just a transit station, not only for Czech Jews but for Austrian and German ones as well, and later for some of other countries too. The "final solution" extermination plan for Jews in Europe was formulated on 20 January 1942 in a short conference in the Wannsee section of Berlin, organized by Heydrich and Eichmann and attended by representatives of Nazi command from all occupied areas. From the Wikipedia article on the conference:
"Heydrich reported that there were approximately eleven million Jews in the whole of Europe, of whom half were in countries not under German control. He explained that since further Jewish emigration had been prohibited by Himmler, a new solution would take its place: 'evacuating' Jews to the east. This would be a temporary solution, a step towards the final solution of the Jewish question"
The number of Terezin inmates grew rapidly. Karny's book tallies the numbers of inmates in 1942:
| | |
| --- | --- |
| April | 12,968 |
| May | 14,300 |
| June | 21,269 |
| July | 43,403 |
| August | 51,554 |
| September | 53,264 |
Thereafter the number stayed near the last figure: many inmates died (over 10,000 in Aug-Oct 1942) and others were deported on "to the east," but constantly new ones also arrived in Terezin from occupied areas. Crowding was great: some slept in bunks erected in the barracks, others on floors and straw mattresses, and some even in attics. Prisoners were perpetually undernourished: Edelstein decreed that children would get priority and would be served slightly larger rations, while elderly got less, but everyone went hungry. The cold of winter also hit hard, and inmates (especially old ones) often just lay down in bed to conserve heat and energy.
In the middle of 1942 Heydrich was assassinated by two Czech soldiers parachuted from a British airplane. They ambushed his car on 27 May, and he died of his wounds about a week later. The story is covered well in Madeleine Albright's book "Prague Winter": the initial attack failed, but Heydrich stopped his car and was attacked again. The parachutists escaped and were hidden by Czech patriots, but ended up hunted down, betrayed and killed. Heydrich was a friend of Hitler, and retribution followed: all inhabitants of Lidice, the village closest to the ambush, were killed and the village itself was blown up. Terezin was punished by an extra transport "to the east."
Liesl at that time was still in Prague. In her interview she said that the Nazi reaction frightened Czechs from helping Jews:
"…And they … put up at that time big placards, whoever hides either the murderers of Heydrich or Jews, will be hanged. Not only he himself, but with his whole family. And that's been the end of hiding Jews. That's been the end because, in Slovakia, and in Poland, not to speak of Holland, Jews were hidden. In Bohemia and Moravia, it's been--well, I knew of some five persons who were hidden, but not more. Because they really, they-first of all, they were afraid, and Czechs weren't very helpful."
Minna and Liesl in Terezin
Minna was deported to Terezin in the middle of 1942, the month when (by the table above) the population of the ghetto doubled. Her Red-Cross postcard from Prague dated 21 July 1942 stated: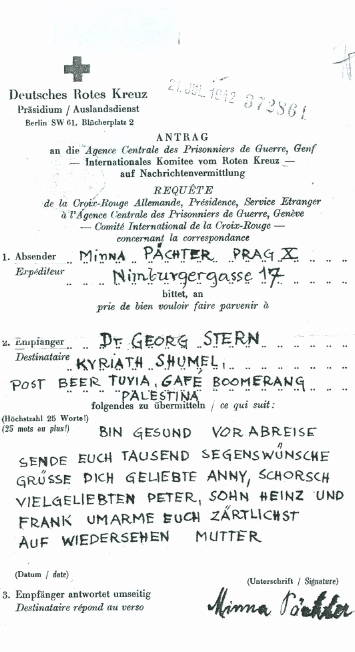 Red Cross Postcard
BIN GESUND VOR ABREISE
SENDE EUCH TAUSEND SEGENWÜNSCHE
GRÜSSE DICH GELIEBTE ANNI, SCHORSH
VIELGELIEBTER PETER. SOHN HEINZ UND
FRANK UMARME EUCH ZÄRTLICHST
AUF WIEDERSEHEN MUTTER
i.e. "Am healthy before departure sending you a thousand blessing wishes greetings for you loved Anny, George, much-loved Peter, son Heinz and Frank, I hug you most tenderly see you again Mother"
Josef and Anna Stern were deported to Terezin earlier, on July 6, shortly after Josef turned 80. On 19 October 1942 both were taken from there to the gas chambers of Treblinka, where they died.
Treblinka was the first large "death camp," devoted exclusively to killing. It contained no residential area (except for the "sonderkommando" inmates who cremated the bodies, and were themselves gassed and replaced from time to time). The gas chambers were windowless brick structures (victims were told they were "shower facilities") with openings in their roofs, through which gas-producing hydrogen cyanide was hurled in, once inmates were inside and doors were locked. The gas itself had been in use by the fumigation industry: even nowadays, when a house is fumigated to clear it of insects and rats, residents are evacuated, it is "tented" inside a large plastic sheet and gas is temporarily pumped in, killing all life inside. Hydrogen cyanide stops all uptake of oxygen from breathing; it is now rarely used for fumigation, but it was used in the death camps, and about 750,000 Jews died of it at Treblinka.
Minna was also ordered to a "transport to the east" on 8 October 1942, but according to Liesl Laufer, she was reprieved after showing her award from the Red Cross, for supporting troops on trains through Bodenbach during World War I.
For Czech Jews the year 1942 was when the Nazi Genocide plans became horrifying reality. Most Czech Jews were sent to Terezin that year, and many later continued in closed rail boxcars to "resettlement in the East" and were to be heard from again. Of Liesl's family, her parents Rudolf and Käthe Pollak and her younger sister Helena were sent to Terezin in December 1942, but Liesl required surgery and stayed behind.
Her trip to Terezin, to rejoin her parents, was repeatedly delayed by her nursing work, and meanwhile her mother wrote her that the family had to leave for "The East." She finally got her train ride in March 1943, but when she arrived her family had already left Terezin. Instead,
Děčín synag. memorial to Pollaks

"…when I came to Terezin, a cousin of mine, from my father's side, awaited me on the railway station, and gave me a little slip of paper, and told me, well, that's what your father wrote down, during the journey.

And I told him, how could that be? He told me, well, you know, we knew the wagons [boxcars] which went to the East always came back to Terezin for another load of Jews. And I told your father to put a little slip of paper into a lamp, in this and this wagon, and I will search there. And I found this slip of paper--is this your father's handwriting? And I told him yes, it is. And my father just put down: "Terezin, Bohushovice, Bodenbach, Dresden" and in the end it ended "Katowice, Auschwitz." And after "Auschwitz" there was, there was a point. That means, the end of the journey. So I knew they went to Auschwitz. I knew right from the beginning.
--Did you know what was happening in Auschwitz?
That's another thing. We didn't know about the gas, that means, I didn't know. I knew that something horrible is happening in the East. But I thought of typhoid fever, I thought of hunger, I thought of--let's say war, that means shooting or something like that, but I never thought of gas. Never in my life. When I was in Terezin... well, I thought it's something horrible, a horror, you know, and you have to be glad to be in Terezin. During my stay in Terezin I became ill once more, and I was in a room with a German Jew, a pharmacist, who came a few days earlier from Berlin. But she was ill, and they put her into the hospital. And she--we were about five women in this room--and she started telling us about Auschwitz and about the gas.

-- How did she know?

She knew of the gas. She knew there is gas, and everybody is killed.

In Berlin they knew, somehow. I don't know how. But I heard it, and I was so upset, that I got high temperature once more. I had a jaundice, but the temperature went down--I got high temperature once more and in the afternoon when Salos [chief physician] came with my husband to see the patients, I just started, I started to weep. And they didn't know what happened to me, and I told... And I told my husband only, you know, this woman keeps telling us that in Auschwitz is gas. And my parents and my sister are in Auschwitz.

So I remember, five minutes later, they just put me in another room
The memorial plaque of the Pollaks in the Děčín synagogue states they died 24 January 1943.
Minna was put in room L. 403, with a group of older women (one of her poems suggests 14 occupants). They probably slept on the floor, enduring crowding in space defined to the centimeter, but avoiding the risk of a fall from a higher bunk; it might have resembled the room portrayed here in a watercolor by Zdenka Eismannova.
Some time during that year Minna found paper and began writing. For instance, when Zhenka, daughter of her room-mate Valeria ("Vally") Grabscheid was married on 23 March 1943, she wrote a humorous "Wedding Carmen" poem marking the occasion (transl. from German)
Wedding-Carmen for Zhenka (and) Manzi
23/III/1943 Theresienstadt
The sun smiled into the ghetto once more
As springtime did Manzi to Zhenka restore
From now on together through life they will go
Will stand by each other throughout joy and woe
That's how they stood here today, hand in hand
Chained tightly forever by their holy band
May nothing again take the one from the other
No pain and no hardship should ever cause bother
For eighteen months they were a long way apart
But Amor, god of love, took them to his heart
The wrongs of their fortune, again he set right
And helped the two lovers once more reunite
Yet seldom is joy whole, untempered by pain
And our hearts suffer a small bit of strain
For one pair of parents is not with us here
Alas, they are elsewhere, now gone half a year
But even far in the East, we trust
Their love to their children will never rust
Silently they bless this celebration
Reinforced by their own determination
To move with you two, to the promised land
And there the rest of their lives with you spend
I sense it--no, know it for sure, it is true
Hansl and his young wife, they wait there for you
The other two parents you congratulate
See all the joy which their eyes radiate
But this is quite easily understood
Two young people--both, so handsome and good
We wish you the nicest and all of the best
On this, your wedding day, may you be blessed
May your good fortune never relent
May you enjoy wealth, be always content
May you as lucky ones always be known
May gods of kind fate count you as their own
And may you never be deserving of pity
In this sense I write you this wedding-carmen ditty
Pious Jewish men
Say to such words: Amen!
Minna Pächter … &nbsp from Bodenbach
Minna was hopeful about the groom's parents sent "to the East." It was just an illusion:
For one pair of parents is not with us here
Alas, they are elsewhere, now gone half a year
But even far in the East, we trust
Their love to their children will never rust
Jenny (Zhenka) and Manzi were more fortunate, they found a long life together in Israel.
Jenny wrote in 1996:
So first I must note that your grandmother, Mrs. Paechter, I remember exactly. She really lived with my mother and with my mother's sister, Liesel [a different Liesl]. Your grandmother, may her memory be blessed, was really a tall and strong person, with a special hairdo, whose arranging took her time every day. I can also tell you that together with my friend we once repaired for her a dress, and for that we received a piece of margarine (the size of a nut). I lived at a different place in Terezin, but I visited my mother every day and on that occasion I saw your grandmother and talked to her. To converse with her was always a memorable experience for me. That "God took her" I remember, but whether she died of weakness or of sickness I do not remember.
About her own feeling, Minna wrote somewhat bitterly (all translations from German are mine; the original was read to me in Sept. 1982 by Anny Stern, Minna's daughter and my own mother):
The professor's wife lies by the wall
Like the Cherusker he is called
Though not related to him at all
Makes noodles of no known mold
The professor visits every day
He used to read the Odyssey
In Greek and Latin: Heracles
And works of Mark Aurelius
And chits that list starvation rations
Yes, in Terezin one has no courage, just worry
And now I must tell you my own story
It isn't a thing that is gladly confessed
But overall I am with eating obsessed
My elephant's skin has all insults repelled
My indolence so far no one has dispelled
I have no more spirit, have no elan
I get along as well as I can.
But no more harsh words, Mrs. Holz lays down law
We still are one family, as you should know
For me too, a member, the insults should cease
And so I withdraw, and will hold my peace
I fear meanwhile
I'm getting senile
My thoughts are forever in a spin:
may soon depart from Terezin.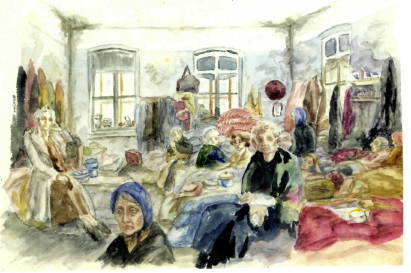 A room like L 403, by Zdenka Eismannova

The last line is ominous. Minna, in room L 403, was ordered to join a "transport to the East" on 10-8-42, but was taken off the list thanks to her work in WW-1. "Worry" translates the Yiddish-Hebrew "deiges."

In the following cold winter she described life in her room, L 403 . Liesl and Vally were among the room-mates she described in a long poem in German (translated here):

January 1943 Theresienstadt
Near Prague, in town of Terezin
Stand many barracks, big and grim
And somewhere in its deep interior
Is our house, it's quite inferior
"Ubikation" it's called today
What is that strange word, anyway?

As room "commandant", ruling the scene
Mrs. Holz reigns over us like a queen
What does it mean, she shouts with a rush
Mrs. Langer, the floor must be scrubbed with a brush!
But that one gets angry and voices her hurt:
Am I just a beast, to scrub all this dirt?
I'll seek a job in another direction
And this will give me some protection.
With a general's (shout?) the commander calls out:
Let's not fight over it, otherwise it won't go.


Mrs. Langer speaks: just one demand
Is anyone anxious to lend me a hand?
Mrs. Weil, why do you begrudge me support?
But that one keeps out, with never a word
In her own corner, eternally wet
Makes her dumplings, as if on a bet
She is with cleanliness obsessed
Cleans, washes, scrubs without any rest
Though sick, her work has never ceased
May God's grace save her from the East.


"Are we not a family?" The room commandant called
"Can anyone here find in me the least fault?"
I keep harmony with everyone
Except those few too quarrelsome
"Those five centimeters are not hers by right"
Five centimeters--are they worth a fight?
Now with the soup away I race
For privy duty, who takes my place?


"Toilet service" the name is officially stated
The establishment to a latrine is related
A foul board, always covered with piss
Woe if the lady in charge sees one miss
(or: A foul board, eternally pissed
Woe if your name makes the caretaker list )
But the house's high and mighty
Views this matter as weighty
My ladies, the work you do is not in vain
When all has been cleaned, it is your own gain
Says the eldest of the room
While wielding the broom


"Mrs. Wertheim, with this I won't abide
Wash up when you can and delay it not
Don't do it whenever you decide
But when the water on the stove is hot."
The other just snorts at such demands
"I don't give a damn for your commands
I wash myself whenever I will
Shut up and be still!"


"To the authorities I will complain
About you", but it is all in vain
In the room leaders face, one, two, three
Is stuck out a tongue, for all to see
Good that her other end she hasn't bared
Xanthippa a lamb was, when compared
To this Adam's rib. Yet soon she quiets down
Tells of Emperor's visit, and deep-cut-out gown.
Back then her charms may have been highly rated
But by now, alas, they have all dissipated.
And a tune she can blow


Two neighbors has this lady, oh brother
Like cat and mouse they are at each other.
Mrs Ermes calls out: be quiet, please!
Under feather comforter hides to find peace.


The kommandant of the room gets flattery and respect
A currency she likes to collect
As gentle as the howling storm
That is her style, in deed and form


Yet she's mother hen to her niece-in-law
And motherly favors will kindly bestow
With nieces Hannitschka does not seem to fit
But these are the facts, that is it.
She still enjoys her honeymoon
But will not claim her rights back soon.


Mrs. Kreisky, a good soul, kind and serene
She too has her thoughts and will rush off the scene
As usual, out of a quarrel to stay
But none of this ever will cause her dismay.


Two sisters by the door, a pair
Their harmony is something rare
A love of cooking both do share
But it's platonic, their cupboard is bare
The food they had brought no longer there.
A man and child each has somewhere
Both creative in this art
Always something new they start
Often some of it I tried
Just the skimpy share decried
In vain do you seek weakness or folly
That might embarrass dear Liesel or Vally


By God, not one flaw I can recall
Like Demosthenes, Vally speaks for us all
Still, all her skill and eloquent art
Will never soften our house-tyrant's heart
Every one gives her great appreciation
This is no flattering exaggeration
Liesel is the other of the two
Easy to live with, that is true
My neighbor when we lie down for the night
A brilliant soprano whose voice is delight
A virtuoso flea-catcher
Her daughter pretty as a picture
With tremendous showy tread
Saying it fills my mind with dread.




"Ubikation," derived from Latin, was the official synonym to "placement," Xanthippa was the supposedly shrewish wife of the philosopher Socrates, while Demonsthenes was a famous ancient orator. And "platonic" cooking is pretend-cooking in the absence of ingredients, a hint to the collection of recipes by the women in Minna's room. There must have existed a little "real" cooking too, using food sent from the outside, but not much.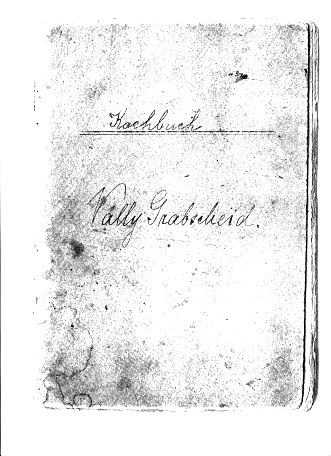 Kochbuch cover
The "Kochbuch"
Those recipes are preserved in a "Kochbuch" (cookbook), a notebook sewn together (or reinforced) with needle and thread; it survived Terezin and is now at the US Holocaust Memorial Museum (USHMM) in Washington, DC. Minna's bold writing is there (also her name), but the cover, of rough cardboard pieces, bears the name of room-mate Vally Grabscheid. Some recipes are in different handwritings, and some were added to the collection on separate bits of paper, including a fragment in Czech on a page from a calendar. Obviously, this was a communal project; a list of the contents is copied here.
Vally might have taken charge of the Kochbuch after Minna left room L 403 (possibly even earlier). She survived Terezin (her sister might not have) and later lived in Israel, and the "bound" Kochbuch was probably given there to Minna's daughter Anny Stern. In an interview 7-15-1982, Anny told
"One book of cooking recipes I got through a Dr. Grabscheid, who came from .. was with her in the concentration camp, and he brought it to Tiv'on, and I got it from him."
Tiv'on is a suburb of Haifa, in the foothills of the lower Galilee. Who was the man described as "Dr. Grabscheid" I don't know-maybe Vally's husband, or maybe she got it from Vally and mixed up the reference. And she also said in that interview
" …This is the one thing, and the other letters I got the funniest way. She [Minna] had a friend who was an antique dealer, of whom she said he is the nicest and best and decent guy you can imagine. He had a "klummfuss".. how do you call this? Buxbaum. Clubfoot, yes, deformed, and walked with a cane. And he was in Theresienstadt."
This suggests that Minna's material arrived in two separate parts, the loose pages arriving later (as described further below), when Anny already lived in New York. But one must be careful in quoting my mother, because a few of her stories seem to contain inventions-e.g. about Adolf Pächter's death (chronic diabetes, not pneumonia) and Liesl's escape from the Nazis (from a forced march, not from a mass grave). Some questionable claims in her interviews, for which no other evidence exists, are therefore omitted here.
The recipes themselves will not be reproduced: they were already published in the book "In Memory's Kitchen" (Jason Aronson 1996) edited by Cara de Silva, with translations by Bianca Steiner Brown, another Terezin survivor. However, recipes by themselves add little to a personal story. Instead, here is a poem inspired by Minna's Kochbuch, as reflected through "In Memory's Kitchen."
It is titled "In Fantasy Run Free", which is also a comment in one of the collected recipes, and it was written by Shulamith Chernoff, Professor of Education Emerita at Southern Connecticut State University. It appeared in her poetry collection "The Stones bear Witness," Hanover Press, 2006.
IN FANTASY RUN FREE
by Shulamith Chernoff

-for Mina Pächter and the women who perished in Terezin
Dear Anny,

Remember when we lived in Prague
we lingered over a late breakfast
the déjeuner a la fourchette, sandwich,
sausage, hard boiled eggs
.
In 1939, I told you that I could not leave.
You don't move an old tree, I said.
I now find myself in Theresienstadt,
the spa of privileged resettlement, we were told.
My body is withered by hunger, frozen
by the fierce wind that shudders our barracks.


Here at night, wrapped in darkness
we all exchange recipes, I offer
my Leberknödel, liver dumplings with a taste of ginger,
and Kletzenbrot, my rich fruit bread.
Even when my hand trembles, I know I must finish
my Kochbuch.

Cooking with the mouth, we said,
remembering our former lives, our bodies
bonethin, arguing over our recipes:
the Mikado torte with caramelized sugar
and my pirogen rolled with potatoes and chopped cracklings.
While I fought for pale bowls of soup
and stole raw potato skins
I offered my recipe for vanilla cake
with five egg yolks, vanilla bean, ground hazelnuts
and twenty decagrams of sugar.
Anny, I am wrapping these recipes for you
in this book, handsewn. Remember my Kochbuch.
Please Petričku, do not forget your babi.
I called the last of my recipes for cake
Lasse der Fantasie freien lauf.
In fantasy run free.

Mina
The Kochbuch contains more than recipes. It was written from both ends-at one end, the recipes, at the other, a rather gruesome poem in German "Eine Mutter vor Gericht". It is a plea of a mother, facing a judge for killing her loved daughter, in order to spare her violence and hunger. The title reads

Eine Mutter vor Gericht
Soloscene von David Eduard Mauthner
Inhaber des Dr. Blochschen Theater Verlags
(A mother on trial/Solo scene by David Eduard Mauthner
Owner (?) of Dr. Bloch's theatre publishing house).

Nothing else is known about this writing; the closest match is an Austrian writer named Eduard Mauthner (1824-1889) who lived in Vienna. It is possible that this poem once was the only content of the notebook, and that the other end was only used when the women in L403 needed writing space for their recipes. That space later ran out, and recipes were then added on slips of paper.
"Pächter's Health Cake"


Other poems were also penned on such slips. Here is one dedicated to an unnamed physician:

You are just like a flower
So fair, so pure, so bright
The little verse you asked for
I willingly here write.
It starts just as it ought to
The flower fair and fine
But ends in notes of sorrow
Which hasn't been my line.
The profession you chose is one of the best
God only bestowed it on those that He blessed
Your fame far from Magdeburg's borders has flown
You are as the blond pretty doctor now known
I wish that to Prague you soon will return
And all the good things in life there will earn
A practice rich with remuneration
From everyone appreciation
In tinkle of cash and veneration
Too bad that I cannot share this belief
I fear that in Terezin I'll come to grief.

Another, harder to translate, was meant to celebrate a birthday:

We congratulate a dear lady, this once
In our name and her (?) seven sons
That soon with her man, her good helping mate
The coming of peace she'll celebrate
To build a new home she will begin
Well-earned good fortune she will win
Prague will be her trip's first station
How would I like to see her celebration
Reward her kind acts with love and grace
Repay all she earned and her losses replace.

(Here Minna seems frustrated "Does not go." But her writing continues with another pen, thicker script)

We 14 congratulate all 14 wish again
That your usual good spirits you will retain
Always in health your courage will bloom
These are the wishes of our room

The slips also included letters never sent (no mail was allowed from Terezin). They are not dated and could have been written earlier in Prague, where some mail service was still available.
My loved ones

It is impossible to describe to you the enormous joy which we and in particular I felt when Peter's letter arrived. Just remind him often of me, so that he does not forget me. We would like to know more about you, but I am already satisfied to know your are healthy and have your income, though I do not know your occupation. I only regret that you Annerl [little Ann] have become so skinny since (unclear) were a few words of your addition to Bertl's letter the first sign of life. Can't you ask Heinz when you see him to write me a greeting? My life here is not completely easy and [but] I suffer everything gladly in the hope of seeing you again. The parents [George's?] visit me daily, all winter I do not go out. I kiss you many times, give greetings to the Sterns, your
Mother
Another unsent letter was written in Czech. Its translation:
My beloved golden Petričku (Peter)

I can't say how happy I was with your letter. I read it several times and I now know it by heart. I'm very happy that you are well and that you are healthy. Babbička Otti and Dedeček Josef (grandmotther Otti[lie] and grandfather Joseph) are very happy too with your writing and had great joy. I beg you, Petričku, please, write soon again. Kurti sends you his best regards. Please read sometimes Czech so you don't forget this beautiful language. On my night table I have your work and invention, your little airplane and I'm pleased with it and I admire it. I always admire your work and diligence. I will visit you very soon, Petričku, I only ask you, please, don't forget me. Don't forget your Babby, nobody will love you like I love you. Here it is very cold and a lot of snow and I always remember how you made the snowmen. That you love your electric train, I am very happy, if I could I would send you very many toys. That you work in the fields pleases me very much, I think it is very nice. Every evening I kiss your picture and I beg God that I will see you again. Only please, Petrichku, don't forget me. I hug you and I hold you and I kiss you very often. And please eat, so that you will be strong. Thousand .. pussineks, kisses, sends you your
Babby.
Minna's last year
Hunger was everywhere in Terezin. Bianca Steiner Brown, the former inmate who later translated Minna's recipes, described in a talk the camp's diet thus:
"Old persons like Minna Pächter , while imprisoned, were usually located in separate houses. Few, if any, worked. The Jewish administration of Terezin was in charge of the meager provisions and their distribution. The laborers and children received increased allocations…. these increased portions were at the expense of the old and non-working prisoners…

The typical ration was about 500 grams of bread every 3-4 days. Sometimes, 20 grams of margarine, but there were weeks when there was none. Once in a while, we received about a tablespoon of sugar. For the so-called hot meals, we had to line up under every weather condition with our mess kits in [the] large yards. In the morning, substitute black coffee made from chicory was distributed. At midday it was soup. Sometimes it was so called potato soup that was often made from rotten, badly peeled potatoes. Sometimes it was called barley soup that was a slimy gray gruel without any taste. Once a week, when we were lucky, we got so-called goulash consisting of threads of meat, again in a gray sauce, with dumplings or with potatoes. Sometimes we had turnips in a gray sauce. Everything looked and tasted alike, but with little or nothing to eat, you had to become inventive. We sprinkled a little sugar on potatoes; or we sprinkled sugar on a slice of bread with a trace of margarine and pretended this to be dessert.

Since the Jewish administration hoped to keep the youth for the future, children received larger portions, about 1100 calories per day; however all was in vain, because of the 15,000 children, less than 100 survived. The old and sick suffered as a result of this; they suffered terribly… Under those conditions food became an obsession to most of us."
Lack of nourishment affected prisoners in other ways. Whatever food they received was deficient in protein, and as a result, limbs swelled and hurt. It was called "hunger edema" and the doctors in Terezin studied it, including (as told earlier) Liesl's husband Ernst Reich. Doctors in the Warsaw ghetto also studied it, and their studies later appeared in the book "Hunger Disease" [Myron Winick, ed., Wiley 1979].
All this brought fatigue and mental confusion. As Liesl Laufer told in her 1984 interview, she discovered Minna, in the spring or summer of 1943:
"And when I came she was really in very poor state... And she was somehow confused. Because I told her I was Liese, and the daughter of Kaethe, and she told me, she somehow answered back "Die Anni, Anni'leh ist hier, Anni'leh ist hier!" [Anny Stern, her daughter in Israel]. And I found out then and there that she is not able to take care of herself anymore. She had heavy, heavy diarrheas, which went with "hungeredem" always, that's been always like this. She couldn't take care of herself, so... In the middle of '43, yes."

Terezin Hospital, by Jan Ullmann

"…And when I found her, I told my husband... and what are we going to do? And he went to Dr. Salos, and Dr. Salos told us, he will take her into the hospital. That would be the only solution for her. And she really stayed in the hospital, for about one year. And that's been the best thing, because she had her bed, and she had her food, served, and she had clean linen, so that's been really, she has been provided for.

-- How was her mind? What did she do?

Well… Look, she did not do much. Because, first of all you have to remember that people with "hungeredem" were very much asleep. They were very, very sleepy. That's been one of the symptoms, this sleepiness. Then the diarrheas, which were very very bad, always went with it.

Well, she was already getting old. That was the third thing. Because these "hungeredeme" were common in all the people...

-- "Hungeredeme" was protein deficiency?

Yes. Yes, yes. But nobody knew, at the start, nobody knew what happened. She had some books. And as I told you, first of all, she was very weak, of course. So it went on for about one year, because I remember, she died on Yom Kippur, '44. The last few months her state of health was worse and worse. [I know] because, I went there nearly every day. And in the end, she died. But--she couldn't have survived. She survived for a longer time than most of these old people. It's been quite a miracle. Because with other old people it went on for some 3 to 4 months, and--they died. But I remember that they took her blood nearly every day, she was one of the test persons. And she got even some food supplement, to see, what it would do to her. There weren't--there wasn't any medication to fight it off. She got some white cheese, but you shouldn't think that it was much, it was about two spoonfuls, not more, because they didn't have anything else. And that's been all, because there was--nothing! Nothing to help! But she endured it quite a long time. And about a fortnight after she died we left for Auschwitz. I don't know what would have happened to her, because even Dr. Salos left, and I just can't imagine what would have been. She died at the right time.

--There was a funeral?

Yes. There was a funeral. That means, there was a crematorium outside the walls, where we were prohibited to go. It was in some--in one of the barracks, I just can't remember in which. You just had some kind of a coffin, and then they took the coffin out. And I went there, there was no service--no religious service, nothing.
--Who was with you?
Nobody. I was all by myself, because I remember very clearly, my husband was on duty that week in the hospital, and I was all by myself. And there were some 3 to 4 people who came to attend, let's say the funeral, and I was the only one from the family. But that--it wasn't all, because there was a crematorium, and people were burned. Because you didn't have as much space, in the cemetery, to inter the people.
But I tell you, she had a comparatively good end. Because the others were sent to the East. For instance, Mimi, Giesa, with her daughter... In the beginning, we had such a lot of family, my husband and I, and then, you know, this was sent away and that was sent away, and in the end nobody stayed.
Auschwitz
As I told you, I joined my husband because I told, I'm not going to stay behind all by myself. That's been the reason. The only reason. Because, I could have stayed on. And I didn't want to. Because we didn't know what will happen in Theresienstadt, in the end. Till they found out. And--I tell you quite frankly, she talked with the people in her room, there were some 4 or 5 other people, changing the whole time.
In September-October '44, the Germans wanted to evacuate Terezin. They first told us there are transports, "work-transports," that means they took only young people, young men. But, everybody went to Auschwitz. Afterwards, about 10 days later, they told us--well, the wives and children of these young men are as a privilege allowed to join them. Of course, these people rushed to register.
They registered, they really were taken to Auschwitz, but to the gas chambers. We went in the transport--one before the last one. We were always one before the last. And we came to Auschwitz...
Two and a half days, we went really the same route as my father wrote down, we went for instance to Breslau, I remember. And we went through Bodenbach, of course, and Dresden.
--What did you eat?
Well, we had some rations with us. It was quarter of a bread, and some margarine and, I don't know, some sugar. That's been all. And the train was horribly crowded, of course. And nobody knew where we are going, because there were rumors, you're going to Germany, only. There was a fortress, not far from Bodenbach, between Bodenbach and Dresden, it was named Koenigstein. They told us we are going to Koenigstein. But when we came to Dresden, I was the one who told everybody, well, we passed Koenigstein, we're going on. Because people did not know where Koenigstein was, but I did.
So we went on to Auschwitz, and we came to Auschwitz during the night, about 1 or 2, the train stopped, and we saw some lights. You know, right like lights on a road. But there were masses of roads, I don't know how many roads, and lights, and lights, and lights. But when I saw we were going through Katowice, I thought we were going to Auschwitz. And it's been according to the maps I had, when the train stopped I knew where we are.
And at dawn, some prisoners [came] into the wagons, and the first thing was, they said, in Yiddish, that we didn't understand, what... they yelled, "Ihr seit alle gesind" [you all are healthy]. We didn't know what they meant. And they wanted all our watches. We didn't want to give our watches, and out they went.
And everybody went out, and first we were all together, and then the Germans told us, "Men right and women left." But my husband somehow rushed out and, he didn't come back. And then, we went, and I told myself, that's really not right, that he didn't come back to me and now we are already separated.
And then we came to three SS officers. The whole column. And my husband was standing beside an officer and told him, "Das ist die Krankenschwester die ich haben will" [this is the nurse that I want].
And I had two little children with me, children which their mother left sitting on the railway station in Prague and she herself hid in Berlin, afterwards. She is living now in Jerusalem… she lived on and on, but the children went to the gas.
And this SS officer asked me: "Sind das ihre Kinder?"[are these your children?], and I told him: "Nein" [no]. So he just pushed these two children away from me, and I stood beside my husband, and I didn't know what to do. And we waited a bit, and then the officers went away, and my husband told me: "Komm schnell, wir müssen auf die rechter Seite dem anderem nachlaufen. Aber komm schnell." [Come quickly, we must run after the others on the right side. But come quickly.]
And he took me by my hand, and he just pulled me to one side. And I didn't know what happened. And during this rushing he told me that he arranged for himself to be Transportarzt [transport physician]. But this transportarzt always goes with the people to the gas: I don't know what he bet on, I have no idea. But that's been his bet to pull me out. Because he just took me and we rushed after the people who were able to work.
These were the fit ones, and the other ones, with small children--there was something in the shouting of these prisoners, of course, because you had to tell them, you were healthy and you were fit. Because somebody told them, I don't know, he had the 'flu or something like that, and he just went off to the gas, though he was a young fit man.
I was--I was very lucky, because it was still dawn, and they didn't see that I was all yellow. I had another jaundice, and I was yellow, but they didn't notice it, because there was really no light.
So we rushed after the others. And when we came there, there was some... something like a barrack, but not as in Terezin a house, from, I don't know [solid brick barracks], it was wooden or something like that. And we came there, it was... the house [where] everybody went. And we came in, and there we met some other prisoners, and, everybody of course asked about his relatives. And I remember, I asked about the transport of my parents and of my sister, and if they were there. And they made a sign like that, finger up, and I didn't understand. And then they took me and told me, look, here you see... ein Kamin, ein Schornstein... a big chimney. You see, now the chimney will burn, you will see the smoke, and you should know, this smoke is your transport, the people who came with you. And I told them, "but we are here!" "Well, that's the people who went to the other side." And this smoke are these people.
And I couldn't understand it. So then we had, first of all, they shaved our heads off, of course, the hair…
--Who is "they"? Prisoners?
Prisoners, but under the observation of Germans. Then our clothes were taken from us and we got prisoner clothes. And I remember, it was very hard to find a decent pair of shoes. And after that, when we had the clothes on and the head shaved off, I wanted to see my friend Martha, who was the whole time with me, and we just went hand in hand, because we were.. we just didn't want to lose one another, we were afraid, they would separate between ourselves. And I didn't recognize her, and I went from one woman to the other, to some three women and I told everybody "Are you Martha Bloch?" And then one answered, "yes I'm Martha Bloch, but who are you?" And we saw ourselves [had seen each other] some 5 minutes earlier.
I stayed for some 4 or 5 days in Auschwitz, then we were deported to another concentration camp in Silesia, named Gross-Rosen. But, we were [in] an "Aussenlager" [attached camp] of Gross-Rosen. We were only about 1000 women there, mostly from Terezin, but there were some Hungarians, there were some Slovakians but…
I never saw my husband again. I never saw him again. I never knew till... When we went to the hair shave, they told us, well, now the men are going this side and you are going to another barrack and that's been it.
Oh, before we went to this hair shave, that was when I was together with my husband, I had my wedding ring. That's been the only thing we were allowed to take. I had my wedding ring, and... they wanted to take the wedding ring. And I didn't want to give the wedding ring. My husband told me, well, look, it's .. it doesn't make any difference, if we come back to Prague I will buy you another one, a nicer one.
So, that's been about the wedding ring. Now, I didn't see my husband any more. I knew that he... First of all, what was very important, that both of us knew we didn't go to the gas. That's been very important. The second thing was, that I somehow got the information that he was sent away from Auschwitz to another camp. Which was very good, because that was one of his last words, "try to get out of here." And I stayed... as I told you, I just don't remember how many days. Because it was... it was hell. That's been pure hell for all of us. We didn't get enough to eat, far from it, we slept on a stone floor without anything else, and we were pushed from one place to the other, I don't know what this pushing meant.
... In these few days, I was in three different camps in Auschwitz. I was in the Zigeunerlager[gipsy camp], for instance. I was in the Frauenlager [women's camp], I was in the T-lager. In the end they told us we have to go out to work, and we were put on a train. And we went by train till Silesia, which wasn't very far.
… So we went there to work, and our work was very hard. We had to carry, for instance, trees, tree trunks, or we had to do...
--Trees--from where to where?
For kilometers. For firewood or for... I don't know what for. I have no idea. Then..
--On wagons?
No! Our shoulders. We came home, our shoulders were just a ... horrible. We couldn't sleep at night. And there was really nothing to eat. But after two weeks we had to do another work. We had to dig ditches against Russian tanks. And this we did, we were there from … end of October till about the 20th of January. That means--November, December, about three months. Yes, it was very cold, very very cold, we had frozen hands and we had frozen feet and .. it's always been terribly cold, and we weren't properly dressed of course, and we didn't eat nearly anything, so it was...
-- What was the sanitation in all these camps?
The sanitation in...? I can't tell you about Auschwitz, because I never saw them [Liesel understood "sanitation" to mean health facilities]. In this little camp we had one small ...First of all, there were four physicians, ladies, who just lay down. Because, they had a few aspirins, I presume, and perhaps a thermometer, but not much else. And that's been it. I was there in the Krankenstube [sick room] for about one week or ten days, because I had a food deficiency in my gums, but so bad, that I got temperature from it and I got it infected all over, so I was there, and then, after it's about... You knew, that it's the last station. Either you get out of it somehow, that means, either the war is finished, or you are finished. That is it. Because I remember, there were some ill girls, some two or three who were very ill, and despite the protests... of the physicians, they took them away to Gross-Rosen, and we never saw them again. Never, never. And we never knew what happened to them."
March towards Germany
When the war front came close, the girls were force-marched towards Germany.
"And I know that when we had to get out of this camp, because the Russians approached, that really ill girls were taken by some German gendarmes, it wasn't the SS which ... who were the guards. We didn't have SS guards, we had Gendarmerie guards, Germans, old men, primitive...
--Did they try to be decent to you?
Well, we had a Lagerkommandant [camp commander] who was decent, the others, not. And they took these girls off, and we knew they were shooting the girls. They were shot. They were the ones who were really ill and whom they presumed that they wouldn't be able to walk. And we had to walk. And during the second or third day of walking we came through a little village and we met a few Russian prisoners of war.
--Did anybody try to escape, while you were walking?
-- Till then, not.
-- What did you do at night, when you walked?
Well, at night we were put up in some big building, it was either... The last night we were put up in a prison, I remember. Some public building. Of course, with guards. But, till the third day, nobody tried to escape.
On this third day, we first met some Russian prisoners of war, and one of them told me somehow, well, why don't you escape, for goodness sake? And I told him, well, why don't you? And he told me, we will be shot on the spot, but you have to try.
-- How did you talk to him?
He talked Russian, but I understood him [close to Czech]. But a guard noticed that I had talked to this prisoner and I was beaten up, I ... he beat me up, it was horrible. And then and there I decided, I will try to escape. After these beatings.
Then we came to another village, and I overheard some old Germans who talked a slang very much alike to the slang they talked in Bodenbach, and nobody understood it. And they told each other that the Germans are holding their line only on the opposite side of the river Oder. They will disengage till the river Oder. This side of the Oder, they let the Russians in, but on the other side of the Oder they will hold the line.
So I told myself, I don't want to cross the river, that's one thing I have to do. And I had two... Yes. And in the evening, I talked things over with Lisa, who is now in Washington. Lisa Hellman … I told her, look, I heard this and this thing. Let us stay somehow here! So we went to sleep ... Yes. And Martha, the third one of us, was very ill. But she was somehow saved and they took her onto a cart. But, she joined us. And I told Martha, what do you think of it, if we should escape. And Martha told me, it is a very risky business. But we should actually try, I am so weak and I am so ill, to go to Gross-Rosen and to end up in a gas chamber? No--we could try it, give it a try.
So, we stayed for another night, and then we went on with all the girls. But we saw people fleeing… Germans, with carts loaded, you know, and with horses. And there was by the side, side of the road, a ditch. I don't know how, it was really a dark day, to hide in this ditch, and we did. And all the girls from our group went, they walked by. And by the road side there was a little house, and we went into this house ...
-- The ditch had grass?
No, it was snow, it was snow and ice, it was in Germany.
--So, how couldn't they see you?
They didn't see us. Because, it was nearly dark, it was a ditch of about a meter and a half deep, and we just cowered there. And then we went into a little house, the nearest house. It was a little village, and in this house, the house was empty... we didn't know what we'd find, the house was empty, but, on the table, we found some soup. It was a bit warm. And we found they had--later on we found that they had foodstuff and foodstuff in that house, and they just left, they fled. Then we found out that this little village is... there isn't anybody there.
-- Did you change your clothes?
Yes. We changed our clothes immediately. Immediately. And I remember, I had a black skirt, very long ... We changed into this peasant dress and we took ourselves some scarves over our hair, because our hair was very short. And we stayed in that house.
But, during the night... We somehow slept during the night, and in the morning we found out that there was a ... store [storage room], we found out that there were two other girls from our transport hiding, which we didn't know. So they came out, when they found out, and we found them. So all the five of us stayed together.
But, the next three days were horrible. First of all, some Germans came in, and we told them we are Polish, we are from Poland and the Germans took us here..
--What Germans, civilians or soldiers?
Civilians and soldiers. So we just told them we are Polish girls, and we were taken here, but by force, for work. And, we want to go back to Poland. O.K., and they left us. But the last one who came in was a German officer with a pistol in his hand. And we told him the same story, he didn't want to believe it. And he already chased us, but we somehow, all the five of us escaped, because I had the impression, that he didn't have any time for us, he wanted to get away. He was under orders, to shoot everybody who stayed, but as we left, and he chased us around and so on, he had to leave.
You heard the whole time, you heard shooting. And nearer, and nearer and nearer. And in the evening, you saw... you didn't see any clouds, everything was red, because... we saw the fire, from Breslau, we were very near Breslau [now Wroclaw], and Breslau burned, and we just saw the fire. That's been the red clouds. But, during these three days, we heard that the shooting comes nearer. In the end...
--You say three days... that's three days after the officer was there?
No, Oh no, it was in between these three days, I don't know if it was at the second day or at the third day that this officer came in. Because, it was ... the last hours before the Russians came in.
--Did you see any soldiers, any tanks, cars...
No. It was empty, the whole thing. We did see, on the first day perhaps, some lorries [trucks], but very few ones, and then the whole thing was empty.
And then, I don't know who saw that... heard some tanks. We didn't move. We just were in the house and it was warm in the house and we had some food, we didn't move. At about two hours later we heard somebody to open the door. And we heard somebody coming in. But.. it was sure it was a soldier. And we just sat there beside the oven, you know, there was a big chimney...
--Did you have a fire in it?
Yes, we had some wood.
--You were not afraid that the smoke would show that you are there?
We were afraid, but we had to do something, because otherwise we would have frozen. And we just set out this stove, somebody came in, ... somehow we felt that this somebody stopped at the very door! He stopped at the door and he didn't come in. So we looked at him, and it was a Russian soldier.
And he told us, what are you doing here? Who are you? And we told him, we are Jewish girls, this we knew to tell him somehow, in Czech, in Russian, we are Jewish girls and we escaped from a camp. And he told us something, when he heard camp, he told us something--"Oswieczim". Oswieczim is Auschwitz [in Polish]. And we told him, yes.
And out he went, but he came back with an officer. And this officer started to talk Yiddish to us. We didn't understand a word. And I think he was very much in doubt if we are Jews or Germans, or Polish, or whatever else. Because, the only word we understood was "Zugt Shma Yisro'el" [say Shma Israel, the Jewish creed in Hebrew]. That was the only word we understood. And I remember the five of us saying to him Shma Yisro'el. And then he was satisfied. And from then, the few days he was there we had really everything.
He brought us bread, and butter, and ... and everything we wanted. And we had enough clothes. And that's been it. But, he wanted us to leave with him for Berlin. To go to Berlin. He was the first to come. And he was the ... how could I tell you, it was an elite corps, and he had to go on. And he didn't want to leave us here, because he told us, well, we, you see, we are not all elite troops, and what you will encounter later won't be like the same. But still, we told him, well, we are not strong enough and we are not healthy enough to go to Berlin! And to leave us somewhere else, that's not good. But, we would like to go to Poland, really to Poland, or to work in a hospital. That would be the right place for us, but not here.
--You were all nurses?
No, only Martha and I. But this would be a solution to our problem if we could work in a hospital. So he told us, well, now you are not able to move. So we were with him for some five days…And through him we met some other officers and a man who was from Odessa, Jewish, who told us how his family perished in Odessa, they just threw the people into the sea, the Jews. That's what his story has been. Odessa. And he was a high ranking officer, the Russian, and he told us, that's true. But mainly Jews came, because this man introduced us only to Jews.
But, they went on. And then we stayed some more, three days more in this village. And then we decided, we will try to go back, just walk back, to Poland. And on this hike back we encountered prisoners of war, but, from the British army, who were in a similar prisoner camp in a place named Sagan. Sagan is a little town in Silesia. And in this town were prisoner-of-war camps. And we met some very nice South Africans, English, that means British, then who else was there, one British soldier who was Jewish, from London, then another one, who was from Palestine. He was taken prisoner in Creta [Crete], in the island Creta, and he was there, but nobody knew that he was Palestinian. And with these people we went back, first we walked, then somehow they provided an army lorry, a Russian army lorry or two army lorries…
First we went to a town named Klujborg…in Silesia. Then we went to a place named Oels, a big hunting lodge… it was a palace of the last German prince… the Deutsche Kronprinz [German crown prince], and we were put up there. The Russians took this, actually a castle…as a house for the prisoners of war. And there we met American prisoners of war, pilots for instance, we met Yugoslavs, …We went with the British. …and they told the Russians, "we are taking these women with us."
-- Did you find out what happened to the rest of the transport?
Yes, of course, of course I know. The rest of the transport went first, really, to Gross-Rosen. They stayed there for some 3-4 days. From Gross-Rosen they put them on a train, they went for some two to three weeks, across the whole of Germany.... They were bombed (but it's been already British bombers), and they were hungry and I don't know what, in the end they finished in Bergen Belsen… In Bergen Belsen was once more typhoid fever, and I think that from... we were a thousand at the beginning, we escaped about, on the route, here and there and there and here, about sixty, and about forty survived Bergen Belsen. But I don't think that more than one hundred from these one thousand women lived.
[The story of Zdenka Fantlova, survivor of that march, is told in her books "My Lucky Star" and "The Tin Ring"]
Then we went to Czestochowa [Čenstochova]… That's been the first time that we met men. Then we went on by train to Uzhhorod first, because, we didn't want to stay in Poland. We wanted to go back to Czechoslovakia
In Uzhhorod, some Czech official came to tell us, we have to leave Uzhhorod, as the whole of Carpato-Russia [eastern tip of Czechoslovakia] is going to be Russian [it became part of the Ukraine]. And we have to leave, we have to go to Slovakia [further west]. So we went to Košice on the same day as president Beneš arrived. He went to Košice, because Prague wasn't free yet. Prague was still under German occupation. So we came to Košice and we decided, we have to take on some kind of job. In the meantime we had jobs with the Russians, as nurses, but in Košice, we wanted really to work
Yes, we had temporary jobs. And we had, for instance, In Oels I had a very interesting job as a nurse and a translator. And I got pay from the Russians for languages I spoke, and I got a different.. they paid me for English and they paid me for American. .
Yes, we had a uniform, a Russian uniform, and they paid us for I don't know... No, we had no official paybook, we had some kinds of papers, you know, but with the Russian, the first thing you had to have, "bumazhki", that were papers. Without papers you couldn't work. So we had papers. And we got even some money for our work. But it lasted for about ten days, about a fortnight ...
But … we came finally to Košice, at about beginning of March. And there was no end to the war, yet. So we told ourselves, we have to do something to get work and to live like decent people.
We applied for work at the health ministry, I think, which was set up in Košice. And we told them, but we have nowhere to stay. And they sent us to the hospital in Košice, and … when we came to the hospital, we had to go to eat something, and it was a big place for all the nurses and the doctors. And we came in, and we met somehow some doctors, Jews, who came from England. Czech Jews, who came from England. And we introduced ourselves, and one told us "You are Mrs. Reich and you are Mrs. Bloch, aren't your husbands doctors?" We told them, "yes." "Because I studied with Reich and Bloch, and I'm one of the people who got out to England--but I'm back here. Where are your husbands?"
…And we went and got a room allocated for the three of us and we went to bed, we were dead tired. In came a lady, came to my friend Lisa and told her, I am sure you remember me, I'm the friend of your mother.
It's been Dr. Fischer-Ascher, an eye surgeon. She remembered her when she spoke to her, and Dr. Fischer told her "Look Lisa. I have a friend back in London, and I promised her, I will look out for her family. And I have the names of this family"
Lisa, told her about her own family, we had been with a niece of hers, but the niece went on and she just didn't survive, she went to Bergen Belsen. And about her acquaintances, and so on, and then she started with that family of her best friend back in London. ] And she took out a little booklet, and she told, well, the family is named Pollak. Then Lisa told me: "Look, you are a born Pollak, you are neé Pollack. I just can't any more, I'm dead tired, you just talk to her."
Then she came to sit on my bed… And I told her: "Yes, but you know that Pollack is a very common name, and I don't know if I will be able to help you.." She started to read the names of my parents and my name and my sister's name. And I told her, well, that's me! But who is looking for us? And she didn't want to believe me and told me "look, would you please tell me the... your mother's maiden name?" I told her my mother is a neé Pächter.
And ..."when were you born, and where were you born?" … And "you were married, weren't you?" I told her, yes. "Now please tell me, who is who." She told me, "Look. Your aunt, Emmi Federer back in London told me, the minute I will meet somebody to ask if he knows you." I told her, "Well, it's me." And she told me, "Look, come with me. Your aunt sent you some things." So the things my aunt sent were lipstick--which the five of us used--and very warm underwear, and she gave me some money. I didn't know it was her money, I thought aunt Emmi sent it. But I took the money, I wouldn't have taken it if I would had known that it's her money.
And she told me: "You know, next day I'm the private eye physician to President Beneš, and tomorrow morning I will go to President Beneš'es office and I there ask permission to send a cable to London, to tell your aunt that I found you." And that's what she did. So aunt Emmi knew in March, already, that I'm living. But she thought that everybody's living. That was her mistake.
Because this friend of hers, this eye surgeon, sent a cable that she found me, and that's been, of course, the whole family is alive. And after the war I had some letters from her ... First I wrote, of course. And I got some letters that she just can't understand that I don't know the address of my mother. Or, where is my sister, you have to take care of your little sister, where's your sister? And in the end, I wrote a letter to my uncle, to tell my aunt, somehow, that they aren't alive. And I addressed the letter to my uncle, who was then at Warwick Castle, outside London, because the whole steel corporation was evacuated to this castle. It's Warwick, outside London, but not too far.
But this letter, unfortunately, didn't reach my uncle, but my aunt. And my aunt read that and she just ... I think she never recovered from this letter. Because it's been a bit too much for her, to read that there is nobody alive, only me. Because she had the impression that if I'm alive, everybody else will be as well.
So that's .. Then from Košice we got really very good jobs in a little town, in Humeny… on the Slovakian border, had a very fine hospital, a government hospital, very fine, a big hospital. We went there with some doctors who came back from England, Jews, and we worked there. I worked in the operations theater, and I took with me Lisa, who was a dancer by profession, but she worked very well.
And Martha worked in the... it was the surgery department, where she worked, and she was a head nurse there, so, it was... we were all right, we had jobs, we worked. Yes, a civilian hospital--then we worked as civilians, as these doctors did. We had a lot of work to do, because everywhere were mines, and people came without arms and without legs and, and, and. We were busy for 24 hours daily. Was horrible, we couldn't go out of the hospital.
So we spent there some six weeks… Beginning of May the war was over, and we heard it over the radio and it's been, from the beginning, we told the people in the health ministry in Košice, who took us on, "We are going to work till the end of the war, or till we are able to return to Prague.
But, as they didn't have any other nurses, especially not an operation nurse, they didn't want to leave us. And I had a Slovakian there, a Jewish doctor who told me, "well, I have you imprisoned but you won't leave." So we made it in the evening, late evening, to the railway station, first Martha and Lisa, and I stayed on till the last moment, I knew I have to catch the train, and with the train we went to Budapest.
And in Budapest we stayed for another six or seven days, and then we left by train for Slovakia. But this train from Budapest to Bratislava, which takes about four to three hours, we went about three days. We came to Bratislava and went to the Jewish community. And they told us, well, we have people in Terezin, and we sent lorries to take them home, you could go on such a lorry to Prague. That would be the best way to go.
So we really went on such a lorry. I remember, we went--it's been during one whole night, but we went though Hodonin… where President Masaryk was born. And in Hodonin there was heavy shooting between Russians and Germans. We thought we might never come out of this shooting. The war was over and still, there was heavy shooting in this Hodonin. But we went on, and I went off the lorry before Prague, in Pardubice, where my uncle lived. The brother of my father. So that's been my story.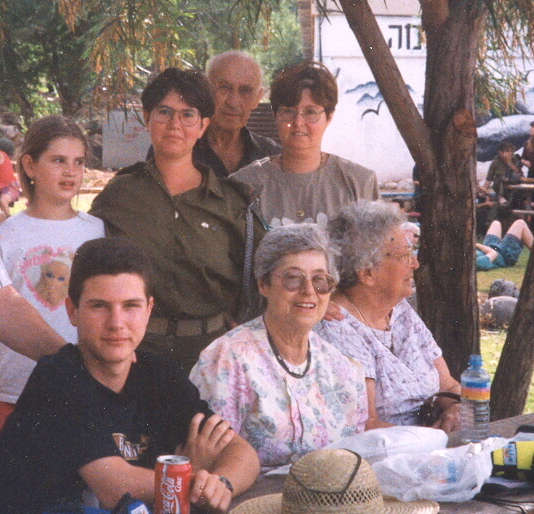 Liesl and Family in Israel
-- Did you meet my uncle Albert [Stern]?
Yes, in Prague. But he came with the army. In '46 I got a certificate, it was a very important thing because Koehler [a surgeon she knew from Bodenbach] wanted me to come home to Palestine, and …in the end Koehler provided the [immigration] certificate and … I got it as a special worker, it's not been an immigrant certificate. I got a certificate to stay for one year and work at the Ezra hospital [Koehler's hospital on Mountain Rd., Haifa]. And …they extended it for another year and then [it] was the state Israel. "
In Israel Liesl married Erwin Laufer, an experienced welder, and raised her daughters in Haifa. She passed away in 2013.
Heinz and Anny
Minna's son Heinz stayed in Tiberias for a few more years, but then moved to Poriya on top of the mountain ridge overlooking the city, well above sea level and much cooler. He also changed his name to Hebrew Chanoch (Enoch in the English translation of Genesis) Ben Aris . However, his culture and that of his wife Pninah differed greatly: she came from the Zionist workers movement and the Kibbutzim, he from old European traditions, including interest in palm reading, free-masonry and astrology. In the end, they were divorced, and he later moved to Switzerland, became close to a woman named Solvejg de Vries, and died there in 1968. All his three children stayed close to Pninah.
George and Anny Stern sold their coffee-shop at the army camp in 1942-3; by then the war had moved further away and the camp population dropped. Their long story can only be outlined here. They moved to Haifa and bought "Café Schapira," a small restaurant near the port, next to a block of government offices. That year their son David lived with Chanoch (Heinz) and Pninah in Tiberias and attended sixth grade there. In Haifa the Sterns shared a large apartment with 4 other families and David enrolled in the Hugim [chugim] high school.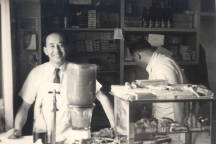 George Stern in Cafe Schapira
The end of WW II brought turbulence to British Palestine. Very quickly the fate of Europe's Jews became all too clear. Many Holocaust survivors ended up as refugees and tried hard to reach Palestine, but the British government insisted on the old immigration quota of 1500 per month, and the British Royal Navy imposed a sea blockade. Ships were intercepted and their passengers detained, mostly in camps on the island of Cyprus. This fed wide resentment, and clandestine Jewish organizations attacked British installations, including the police HQ and the main post office next to Café Schapira. High barbed wire fences went around its block, and they smothered regular business. George Stern finally left the restaurant and joined a partnership in a travel agency "Travex," while Anny found work in the office of an insurance company.
Came the UN partition of Palestine at the end of Nov 1947 and the outbreak of an armed Arab-Jewish conflict. The Sterns finally had a chance to move out of the cramped shared apartment to a small one on Mt. Carmel, whose owner decided to leave the country as new war approached. On May 15, 1948, the last British troops withdrew, the state of Israel was declared and five Arab armies invaded the country, bent on destroying the new state. Israel resisted, war began, and David was conscripted before finishing high school, as his father also was in 1917.
Israel survived. David served 2 years in the army, received a 6-month furlough for an abbreviated last year in school and passed his matriculation exams. He then enrolled to study physics at the Hebrew University in Jerusalem (at that time housed in temporary quarters, because the Jordanian army had encircled its old campus), graduated with an M.Sc and enrolled in the graduate school of the Israel Institute of Technology ("Technion").
He earned there a doctorate in physics, his thesis an underground experiment on cosmic rays, using a tunnel being dug to bring water from the river Jordan to the drier south. In 1959 he accepted a post-grad fellowship at the University of Maryland and then in 1961 began research with NASA at its nearby Goddard Space Flight Center, just outside Washington, DC. His parents came to the US around that time: George Stern's travel business was badly harmed by an embezzling partner, but he found ready employment as travel agent in New York, ending as one of the founders of the Lindblad tours company. His wife Anny arrived a little later.
A Parcel for Anny
In October 1960, David received an air-letter from Israel, addressed to "Dr. D. Stern / Department of Physics / University of Maryland / College Park / Maryland:
Dear David 11. X .60

A friend of mine brought a parcel from ČSR (Česko-Slovenska Republika) from your late grandmother. It has to be delivered to your mother. We got it from a Mr. (?) Buxbaum.

The parcel-the size of a book-contains documents-we have not opened it and do not know the exact contents, but I gather there will be many sad mementos for your mother.
I asked a friend of mine, who went to New York yesterday by air to take it there. It is at

M. Feldmann
Union Str. 1738, Brooklyn 13

Certainly there is also a phone. My friend, who took it to New York, is a Mrs. Cahane.

Please inform your mother (I have not her address) immediately and please confirm this letter and also let me know whether mother has received this parcel.

I hope you are fine and feel happy there and are also very successful. Best, best regards to your parents and to you

Yours Edith Ruth Reiner
The package included the following covering letter, addressed to Anny Stern:
Very honored Mrs. Stern

I have visited Töpliz-Schönau and spoke there with my in-law sharing my name Mr. Arthur Buxbaum, who was in Theresienstadt together with your late mother. Perhaps you have memory of him too, he was a known dealer in antiquities.
He asked me to hand you the enclosed papers as legacy of your mother. Because he did not have your address, he kept the papers for all these years, and he asked me, to find out the address. Because of the helpfulness of the ladies Cahane and Edith Reiner, the package will now reach America and your own hands.
(in Hebrew) Shalom
Irma Buxbaum
Tel Aviv 5.X.60
4 Ha-Alkoshi Street

The message was forwarded to my mother Anny Stern, and she retrieved the package, but after the many years we both had forgotten the above correspondence. Anny offered her own version of how the papers reached her, repeated in "In Memory's Kitchen," in the French book, and verbally on many occasions. But the letter survived in my old correspondence files and resurfaced on Valentine's day in 2009. I now believe that the "Kochbuch" with Vally Grabscheid's name was given to Anny Stern by Vally herself, whereas the "papers" mentioned by Irma Buxbaum were loose notes, letters and poems, maybe loose recipes too. But one can never be sure.
Through many years, my mother kept Minna's legacy in an envelope, like a precious relic. During a visit on 25 September 1982, in a taped interview, she read out aloud Minna's rhymes and I transcribed and translated them. She lost her battle with cancer October 1995 (George died two years earlier, the last of Josef Stern's boys), without ever telling where the papers were kept.
After she passed away, I searched high and low and could not find that envelope anywhere in her apartment. But I had invited her friends for a last visit, before the apartment, full of art and personal touches, was emptied. One of them--Zdenka Hauner (a Czech dentist who had fled the Communist state, later Zdenka Manley) suddenly turned to me and said: "Did your mother ever tell you where she was hiding the Kochbuch? Because I know where, it is here, behind these books."
By that time steps were already in motion to give the "Kochbuch" wider exposure. Another friend of Anny's had started it, Dalia Goldstein, a former Israeli in New York who collected printed cookbooks by the thousand. By chance she learned about Minna's recipe book, and after examining it she told Anny that here was something that just had to be published. She located in New York two "food writers", Cara de Silva and Bianca Steiner Brown, and Anny agreed to let them produce a book in English around Minna's "Kochbuch."
The choice of Bianca was uniquely appropriate: born in Prague in 1922, she had worked as a nurse in Terezin. Only she and her mother survived: her father and sister were sent to the "Family Camp" in Auschwitz-Birkenau whose residents were killed in March 1944. Bianca stayed in Terezin and on 8 May witnessed the arrival of Russian troops. She married that year, moved to Ecuador in 1948 and arrived in New York about two years later.
In New York she started in 1960 a career as food writer, serving as food editor for the Good Housekeeping magazine, Gourmet magazine and Weight Watchers. By the time she was invited to work in Minna's "Kochbuch," in the 1990s, she had already retired, but she enthusiastically took on the new project.
A small person, soft-spoken and gentle, she not only translated Minna's recipes into English, but converted them to contemporary ingredients and tried out some of them.
In Memory's Kitchen
The book's editor was Cara de Silva, who contributed an introductory essay on cookbooks and recipes written by prisoners who themselves were close to starvation. I contributed to the book a translation of Minna's rhymes (also reproduced here) and a short account of her life, based on interviews with my mother Anny. Cara organized the publication of the "Kochbuch" by the Jason Aronson publishing house as "In Memory's Kitchen": she hoped that Anny (who by then was being treated for cancer) would live to see it in print, but my mother passed away in October 1995, while the book only appeared in 1996.
It is quite slim, about 160 pages (including title and attachments), but received wide exposure, with reviews in the "New York Times," "Washington Post," "Newsweek" and in Israel, and it sold many thousands of copies. Mrs. De Silva and Bianca Brown often spoke about it at gatherings of Jewish women, but the contents are mostly about the recipes, not about Minna. It has been out of print for a long time, though copies are readily available from sellers of second-hand books. Royalties were passed to the "Beit Terezin" memorial museum in Israel, whose head, Anita Tarsi, was very helpful.
After recovering the manuscript and donating it to USHMM (along with $3000 for its restoration and maintenance, by Flora Kay of Aptos, CA), I contacted Jenny (Zhenka) Manuel to learn a little more of Minna's life in Terezin, as already described. In Israel Jenny's son collected memories, letters and photographs of his mother and her family, and published them in a Hebrew book "Love and War, Zhenka's story 1921-2003." His wife Pauline published a book of recipes of her own, "Flavors and Aromas from the kitchen of Zhenka and her mother."
I was also contacted by a film producer in Hollywood, and agreed to help him produce a film about Minna. He sent for review a script for that movie, which turned out to be full of distortions and fabrications. I sent more than 20 pages of comments and corrections, and expected the script to be changed accordingly, but it was not and the studio persisted in promoting the original material. It was never produced, however. Later I would outline an alternate script "When Darkness Fell" (posted on the internet), following actual events; it is a film adaptation and not fully accurate either (as noted there in a 2009 note), but it tries to stick to known facts.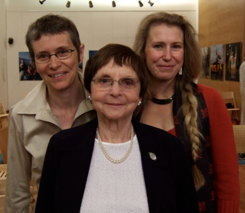 Anne, Bianca and Elsie
Then in January 2005 the phone rang: Anne Georget calling from Paris, a French producer of documentary films. She said that for 12 years she had been producing documentary films for French public TV, and would like to make one about Minna's Kochbuch. On 1-20-05 she wrote:
"The backbone of the film will be the writing of the Kochbuch and its incredible journey until it became published.

You're right in saying that there's already a vast sum of publications and films about the Holocaust but I think your grandmother's testimony has even a broader meaning in its desperate attempt of transmitting love, identity and memory to her daughter and family. In order to not be one more film about Terezin (there are already quite a number in Europe about the infamous Red Cross visit, about Music in Terezin etc) I need to focus on the book itself. I'm thus in great need of reconstructing its long journey. Any hint you might have regarding its various temporary recipients would be very helpful, from the art dealer in Teplice, to people in Israel, to who brought it to the US and to the lady (the book tells of a lady but you're mentioning a man) who eventually called up and gave the manuscript to your mother."
Much more correspondence followed. After I shared with her some of my doubts about my mother's story, she wrote back
"To answer your concern about did your mother switch facts between the letters and the recipes and the fact that you don't want to see this possibility being publicized let me tell you this: I am not a historian, I am a film-maker which means that based on reality I tell a story, I make choices and this is the difference between hard-core investigation and documentary film. If your mother chose for x reason to present that version to the world it is not my goal to question it. My main interest in this is to let people know about the power of food, the power of cooking in transmitting love and identity. So powerful that someone dying of hunger in the most inhumane situation chose to write recipes as a sort of legacy of what she stood for and for who she was. The way I chose to tell this story is by following a thread that is necessarily fragile given that 60 years have passed by. In my mind the film would be as much about a quest as about finding. On the way we will encounter people who have lived, cooked and loved in an environment meaningful to the various stops of the manuscript. I hope your scientific approach can tolerate that without questioning the seriousness and rigor, in its own way, of my enterprise."
There followed visits by Anne together with a writer who teamed with her, Elsie Herberstein, and interviews on camera including Bianca, Dalia, Anita (in Israel) and myself. Elsie, originally from Austria, is an artist skilled with water colors, and had previously produced illustrated books in French about Cambodia, street-dwellers in Paris, and many other subjects. Some memorable scenes with Bianca were filmed in Terezin.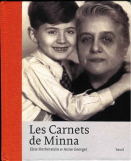 Les Carnets de Minna
A 42-minute video, by Quark productions, was ultimately made and was shown on French TV; it has two versions, with narration in either French or English. But more was to come: in addition to the video, Seuil publications in Paris released in September 2008 a handsome book "Les Carnets de Minna," with many drawings by Elsie and with photographs. It contains a selection of recipes with French translations, and also traced Minna's family history, with notes, pictures and drawings from Bodenbach, Terezin, Israel and New York. It even tried to locate Arthur Buxbaum, the art dealer who preserved papers of Minna and who survived the war, but only his grave was found.
In 2012 I visited with my wife the synagogue built under Adolf Pächter's leadership in Podmokly-Bodenbach (now the western part of Děčín). Its congregation was led by Vladimir Poskočil, former participant in the Olympic sport of javelin toss, and by his daughter-in-law Miroslava ("Mirka"). It has been hard to maintain a Jewish center with a rather small Jewish population, but by drawing members from the surrounding districts it had done fairly well, as I could see by attending services for the Sukkoth holiday.
A Second "Kochbuch"
Coming back from that visit, some 70 years after the "ghetto" of Terezin was set up, it was hard to imagine any new developments of Minna's story. And yet that is precisely what happened.
On the 19th of October 2015 an e-mail message arrived:
"My name is Dr. Susan Roubiček and I believe I have something that may be of interest to you and your family. My family originates from the Czech Republic and my father and his family at some point were all in Theresienstadt. Please contact. "
Naturally I contacted her immediately, and so learned that Dr. Roubiček was a Jewish dentist in New Jersey and that she held a SECOND collection of Minna's recipes. On November 27 we met and I received from her the collection of recipes, hand-written by my grandmother in a notebook of square-ruled paper. Dr. Roubiček turned out to be a sympathetic and lively woman, married, with a 12-year-old daughter much interested in soccer.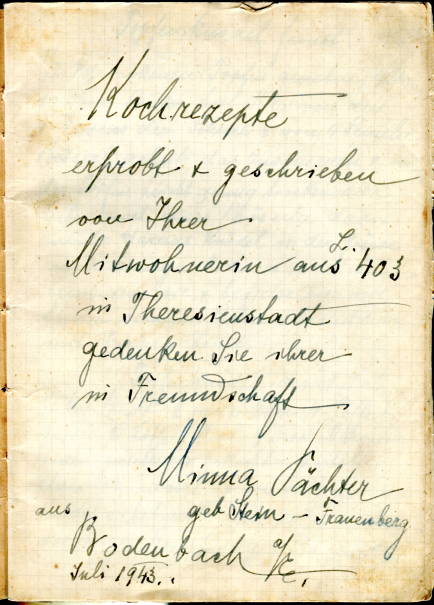 Front page, Minna's second Kochbuch
How did the notebook reach Dr. Roubiček? Through Anna Ermes, one of the survivors of the Terezin "ghetto" who had lived before the war in Vienna, capital of Austria, and afterwards too. Mrs. Ermes was the aunt of Susan's father George (Jiři) Roubiček, who also survived Terezin. She passed away in 1967, after which Susan's father inherited the notebook. Later Susan's mother had it, and when she died, about a year earlier, it passed into the hands of Dr. Roubiček, who realized that it could be an important document to members of Minna's family. But how to find that family? She turned to the Jewish Museum of New York, whose curators knew of the previous collection, and they directed her to me. By the way, two more grandsons and a grand-daughter of Minna also live in Israel today- Gabi Ben-Aris in Sderoth, Itamar Ben-Aris in Kibbutz Erez and Chamutal Karny in Beit Yitzchak.
A Mrs. Ermes was one of Minna's room-mates in room L403 (no one else by that name was listed in Terezin):
Two neighbors has this lady, oh brother
Like cat and mouse they are at each other.
Mrs Ermes calls out: be quiet, please!
Under feather comforter hides to find peace.
This cookbook has joined the earlier one at the Holocaust Memorial Museum in Washington. The manuscript is much clearer and cleaner than the first collection, in which one can recognize the handwritings of different women who wrote down their own contributions. Here it is clear that everything was written by a single hand, pages are numbered and the front page (see image) identifies the author:
| | |
| --- | --- |
| Cooking Recipes | Kochrezepte |
| Tested and written down | Erprobt und Geschrieben |
| By your room-mate from | von Ihrer Mitwohnerin aus |
| L 403 in Theresienstadt | L.403 in Theresienstadt |
| Remember (?) | gedenken Sie ihrer |
| Yours in Friendship | in Freundschaft |
| Minna Pächter | Minna Pächter |
| Born Stein [in] Frauenberg | geb Stein -Frauenberg |
| Of Bodenbach on the Elbe | aus Bodenbach a/E |
| July 1943 | Juli 1943 |
Nothing else is in the book except for recipes, and additional recipes are attached in a small notebook improvised from pages of thick paper. In contrast with the earlier collection, most of the recipes here are for sweet dishes and desserts: apparently Minna selected food meant to bring comfort.
Of course the question arises here-how did this additional collection of recipes come into existence? The only clue is the date of July 1943. It hints that Minna might have started writing after moving to the hospital, a less crowded and quieter place than he old room, while the first collection of recipes stayed in L403, under the charge of Vally Grabscheid. In her new surroundings Minna must have felt better, also found there a notebook, and decided to start a new collection of recipes, from her own memory. It might have been given to Anna Ermes during a visit, at some time in Minna's year-long hospital stay.
Or else… Minna might have kept a separate cookbook in L403, and given it to Mrs. Ermes there. We can never be sure; the dedication above may be interpreted either way.
--- --- --- --- ---
This, then, is the life story of Minna and her family.
What does one take from this tale? Years ago I wrote a letter to a high school girl who asked, why did students like her have to learn history? Dear Simone, I wrote, school tries to prepare you for a meaningful and successful adult life. Your English classes teach you to communicate and express yourself, math and science help you understand technology and use it in your own life. And it is also important to learn understand human society, except no tidy theory of such society has yet emerged; reality is too complex. So schools (and social scientists) do the next best thing and look to the past, to the history of what had actually happened. They try to extract meaning from precedents.
The story of Minna's life and family suggests that the same is true of family history. All families are different (not just unhappy ones, as Tolstoy has claimed), reflecting the diversity of human character and of changing circumstances. Family ties hold people together, but they also may develop strains. Wealth may accumulate or dissipate, and war can hit families like an earthquake, especially Jewish families during the Nazi Holocaust. When few orderly patterns exist, one may still try to understand life by looking at what actually transpired.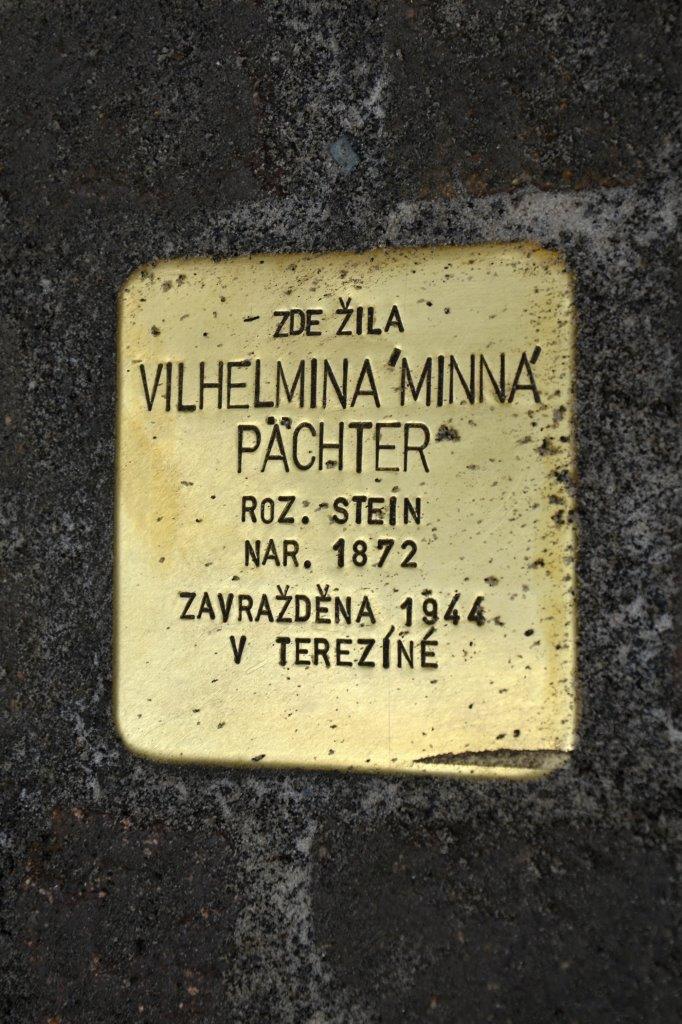 Minna's Stolperstein
Firm conclusions are few. Actively trying to take charge of one's life may save it, as happened for Liesl when she volunteered to be a nurse, before the need for nurses became evident. It also saved Minna's son Heinz-Chanoch, whose emigration to Palestine seemed at the time risky and imprudent. Keeping in touch with each other kept the Pächters and the Sterns together. But individual fates were remarkably diverse and much depended on blind luck.
The sidewalk outside the house where Minna used to live, 3 Thomayerova street, is paved (like so many others) with small square stones. One stone is covered with a brass plaque, a bit like a gold crown on a tooth, inscribed in Czech:
"Here lived Vilhelmina 'Minna' Pächter, neé Stein,
born 1872 , murdered 1944 in Terezin "
It is a "Stolperstein" or "stumbling block," a small memorial marking the residences of victims of Nazi persecution, most of them (but not all) Jewish ones. It is the project of Gunter Demnig, a German artist, and so far over 50,000 have been placed, usually by him, in most countries ruled by the Nazis.
This is Minna's only memorial. Ashes from the Terezin crematorium, though carefully boxed and kept, were in the end thrown by the Nazis into the Ohře river or into a pit. It is up to us to preserve their memory and pass it to future generations. And never, never forget!